The Medina – April 4, 2018 – Tunis, Tunisia
The Tunis Medina is the old city portion of Tunis and was founded in 698 AD.  Today it is a UNESCO World Heritage site.  I spent two half days exploring a small section of the Medina.  I say a small section because the Medina is roughly 650 acres with over a hundred thousand inhabitants. 
On the second day Nancy and I explored together and had lunch at a restaurant I had found on the first day – food was very good but no wine or any other alcohol was available.  Ahh, the advantage of traveling in Catholic Italy versus Muslim Tunisia is wine is available almost everywhere in Italy and not so much in Tunisia.  As interesting as the narrow pedestrian streets, shops, doors, and everything else were,  it was the people I found most interesting.
The Bar el Bhar, the Gate to the Sea, was about a block away from our hotel and is one of the primary entrances to the Medina.
<![if !vml]>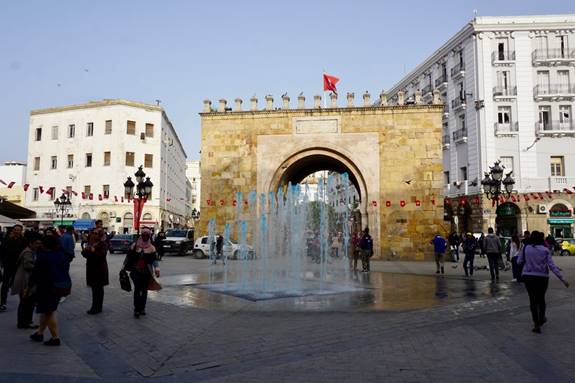 <![endif]>
In the photograph above the Medina is behind me and our hotel is about a block down on the other side of the Bar el Bhar.  I didn't bother to investigate but I am guessing the fountain is new – the pumps and the use of electricity for the pumps weren't available to the builders of the Bar el Bhar in 1848.
Not everything is sold from a shop or stall.  This guy has a mobile bakery.
<![if !vml]>
<![endif]>
Tunisia is a majority Muslim country.  A number of women but not all women wear headscarves.  This couple is very western in clothing down to the sunglasses.
<![if !vml]>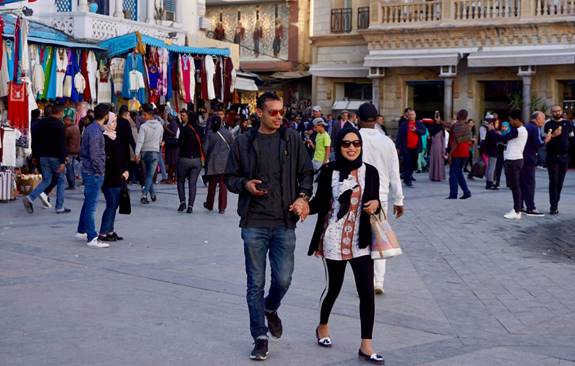 <![endif]>
But not everyone or everyone's clothes have a western look.  This is especially true for those women in my age bracket.
<![if !vml]>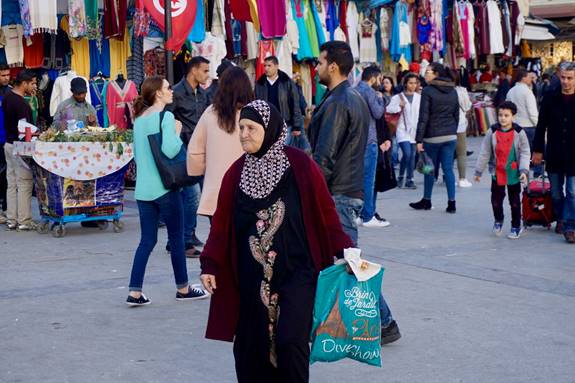 <![endif]>
A group of guys probably discussing football (or soccer for those living in the U.S.)
<![if !vml]>
<![endif]>
More guys – the strong silent type.
<![if !vml]>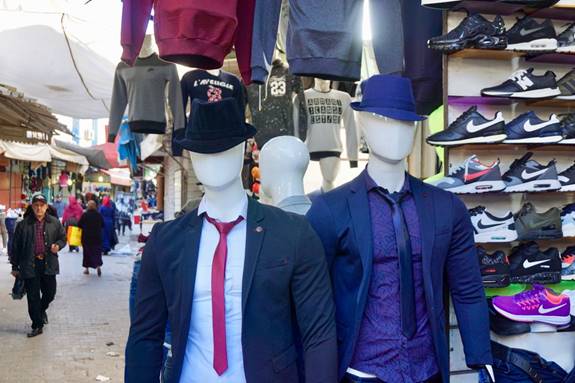 <![endif]>
There are three or four main entrance streets leading into the Medina and they are all crowded.
<![if !vml]>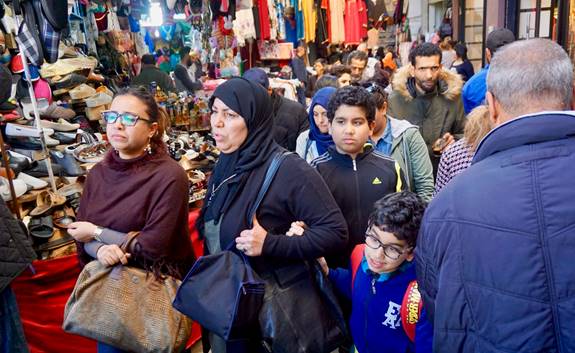 <![endif]>
However, the deeper you wander into the medina the less crowded the streets become.
<![if !vml]>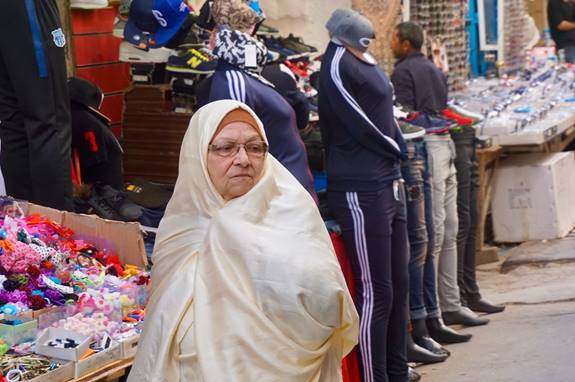 <![endif]>
A large majority of Tunisians are younger than me.  No headscarf for her.
<![if !vml]>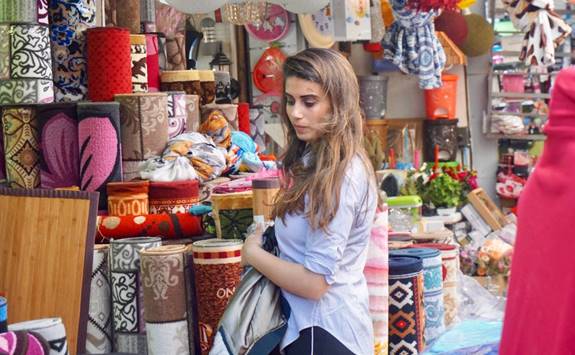 <![endif]>
Multiple generations of ladies shopping.
<![if !vml]>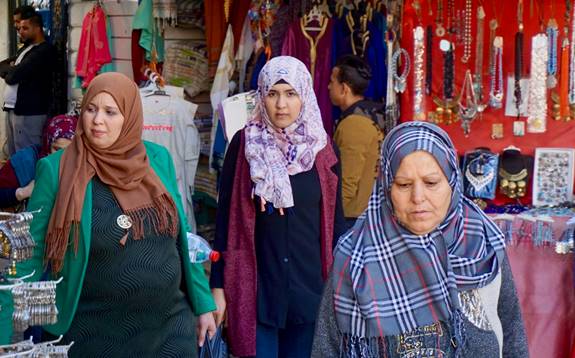 <![endif]>
These three ladies appeared to be a daughter with no headscarf, a mother nearest to me, and maybe a grandmother or aunt on the far side of the daughter. 
<![if !vml]>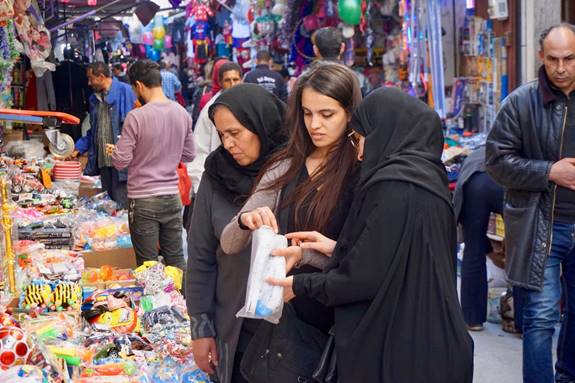 <![endif]>
I looked but didn't buy.
<![if !vml]>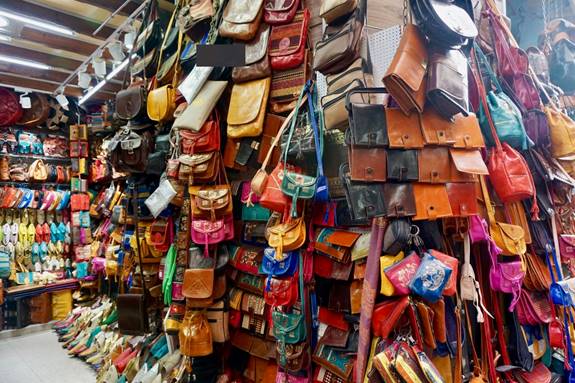 <![endif]>
Again, I looked but didn't buy.
<![if !vml]>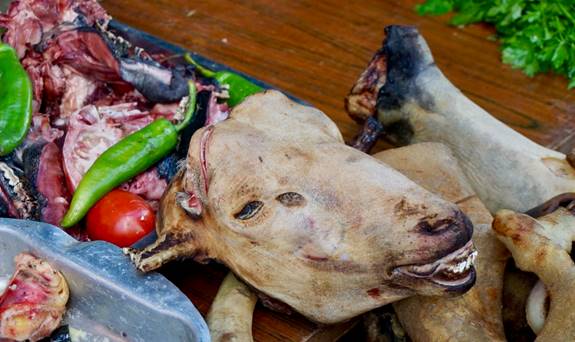 <![endif]>
                                                                                                                                                                                                                                                                                                                                                                                                                                                                                                                                                                                                                                                                                                                                                                                                                                                                                                                                                                                                                                                                                                                                                                                                                                                                                                                                                                                                                                                                                                                                                                                                                                                                                                                                                                                                                                                                                                                                                                                                                                                                                                                                                                                                                                                                                                                                                                                                                                                                                                                                                                                                                                                                                                                                                                                                                                                                                                                                                                                                                                                                                                                                                                                                                                                                                                                                                                                                                                                                                                                                                                                                                                                                                                                                                                                                                                                                                                                                                                                                                                                                                                                                                                                                                                                                                                                                                                                                                                                                                                                                                                                                                                                                                                                                                                                                                                                                                                                                                                                                                                                                                                                                                                                                                                                                                                                                                                                                                                                                                                                                                                                                                                                                                                                                                                                                                                                                                                                                                                                                                                                                                                                                                                                                                                                                                                                                                                                                                                                                                                                                                                                                                                                                                                                                                                                                                                                                                                                                                                                                                                                                                                                                                                                                                                                                                                                                                                                                                                                                                                                                                                                                                                                                                                                                                                                                                                                                                                                                                                                                                                                                                                                                                                                                                                                                                                                                                                                                                                                                                                                                                                                                                                                                                                                                                                                                                                                                                                                                                                                                                                                                                                                                                                                                                                                                                                                                                                                                                                                                                                                                                                                                                                                                                                                                                                                                                                                                                                                                                                                                                                                                                                                                                                                                                                                                                                                                                                                                                                                                                                                                                                                                                                                                                                                                                                                                                                                                                                                                                                                                                                                                                                                                                                                                                                                                                                                                                                                                                                                                                                                                                                                                                                                                                                                                                                                                                                                                                                                                                                                                                                                                                                                                                                                                                                                                                                                                                                                                                                                                                                                                                                                                                                                                                                                                                                                                                                                                                                                                                                                                                                                                                                                                                                                                                                                                                                                                                                                                                                                                                                                                                                                                                                                                                                                                                                                                                                                                                                                                                                                                                                                                                                                                                                                                                                                                                                                                                                                                                                                                                                                                                                                                                                                                                                                                                                                                                                                                                                                                                                                                                                                                                                                                                                                                                                                                                                                                                                                                                                                                                                                                                                                                                                                                                                                                                                                                                                                                                                                                                                                                                                                                                                                                                                                                                                                                                                                                                                                                                                                                                                                                                                                                                                                                                                                                                                                                                                                                                                                                                                                                                                                                                                                                                                                                                                                                                                                                                                                                                                                                                                                                                                                                                                                                                                                                                                                                                                                                                                                                                                                                                                                                                                                                                                                                                                                                                                                                                                                                                                                                                                                                                                                                                                                                                                                                                                                                                                                                                                                                                                                                                                                                                                                                                                                                                                                                                                                                                                                                                                                                                                                                                                                                                                                                                                                                                                                                                                                                                                                                                                                                                                                                                                                                                                                                                                                                                                                                                                                                                                                                                                                                                                                                                                                                                                                                                                                                                                                                                                                                                                                                                                                                                                                                                                                                                                                                                                                                                                                                                                                                                                                                                                                                                                                                                                                                                                                                                                                                                                                                                                                                                                                                                                                                                                                                                                                                                                                                                                                                                                                                                                                                                                                                                                                                                                                                                                                                                                                                                                                                                                                                                                                                                                                                                                                                                                                                                                                                                                                                                                                                                                                                                                                                                                                                                                                                                                                                                                                                                                                                                                                                                                                                                                                                                                                                                                                                                                                                                                                                                                                                                                                                                                                                                                                                                                                                                                                                                                                                                                                                                                                                                                                                                                                                                                                                                                                                                                                                                                                                                                                                                                                                                                                                                                                                                                                                                                                                                                                                                                                                                                                                                                                                                                                                                                                                                                                                                                                                                                                                                                                                                                                                                                                                                                                                                                                                                                                                                                                                                                                                                                                                                                                                                                                                                                                                                                                                                                                                                                                                                                                                                                                                                                                                                                                                                                                                                                                                                                                                                                                                                                                                                                                                                                                                                                                                                                                                                                                                                                                                                                                                                                                                                                                                                                                                                                                                                                                                                                                                                                                                                                                                                                                                                                                                                                                                                                                                                                                                                                                                                                                                                                                                                                                                                                                                                                                                                                                                                                                                                                                                                                                                                                                                                                                                                                                                                                                                                                                                                                                                                                                                                                                                                                                                                                                                                                                                                                                                                                                                                                                                                                                                                                                                                                                                                                                                                                                                                                                                                                                                                                                                                                                                                                                                                                                                                                                                                                                                                                                                                                                                                                                                                                                                                                                                                                                                                                                                                                                                                                                                                                                                                                                                                                                                                                                                                                                                                                                                                                                                                                                                                                                                                                                                                                                                                                                                                                                                                                                                                  No hard selling at this stall.
<![if !vml]>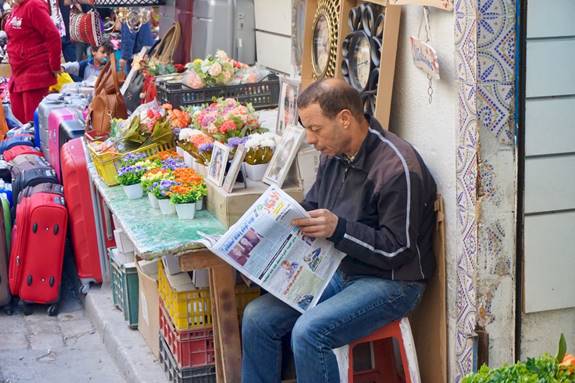 <![endif]>
And everyone seems to have time for a conversation.
<![if !vml]>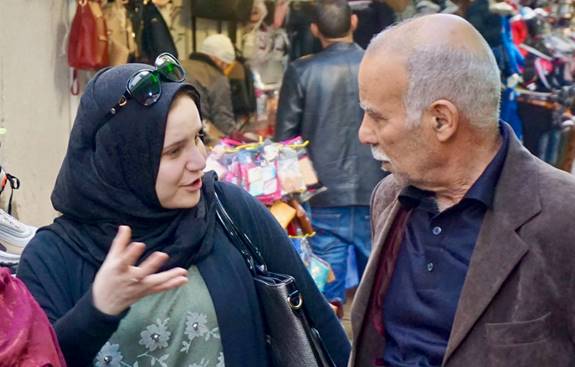 <![endif]>
May your next shopping expedition be as much fun as walking and shopping in the Tunis Medina.