Ferry to Tunis, Tunisia – April 2, 2018 – Palermo, Italy
Sometime in the last couple of months I was looking at a map of Sicily.  Eventually it came to my mind that Tunisia was only an inch a way from Sicily and Sicily was only two inches long so the distance between Sicily and Tunisia couldn't be all that much.
Next my brilliant brain comes up with the idea that if Tunisia is close to Sicily there probably is a ferry between the two places.  I googled "ferries Italy Tunisia" and damn if there isn't just one but more than one ferry making this trip.
I asked Nancy if she would like to visit Tunisia and her answer is, "Why not?"
So this evening about 10:00 pm we finally get in the correct line to exit Italy and drive on to the ferry.  Departure time is 2:00 am – appears to be a lot of waiting time built into check in time and departure time.
The 4Runner's check out of Italy line.
<![if !vml]>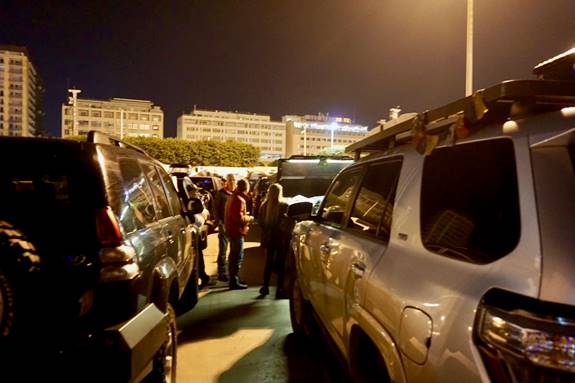 <![endif]>
The 4Runner is now at the head of the line.  "Sir, your tickets please."  We booked online and I don't have a printer but I have written everything down – therefore no problem in my mind. 
"Sir, would you please park your vehicle and go over to that building to get your paper work."  Now, I am the first to admit that me not knowing Italian is my problem not the Italian customs officers' problem.  They did their best but before we make it back to the 4Runner:
<![if !supportLists]>A) <![endif]>We stand in line in the building we were told to go to.  The official tells us we need ferry boarding tickets and the ticket office is the white building over there. 
<![if !supportLists]>B) <![endif]>We go to the ticket office, get our tickets and back to the first building. 
<![if !supportLists]>C) <![endif]>We stand in line; the official looks at our tickets and then at our passports.  The official tells us we need to have our passports exit stamped and that is the building next door. 
<![if !supportLists]>D) <![endif]>Over to the passport building, short wait in line, passports stamped and back to the original building.  Another five to ten minute wait and the custom person looks at our tickets, passports, ticket for the 4Runner and hands us a clearance paper for the 4Runner. 
<![if !supportLists]>E) <![endif]>Back to the 4Runner and two or three minutes later the 4Runner is approved to leave Italy.
I have to note that customs only looked through the driver's side window to ascertain we weren't smugglers.
The ferry:
<![if !vml]>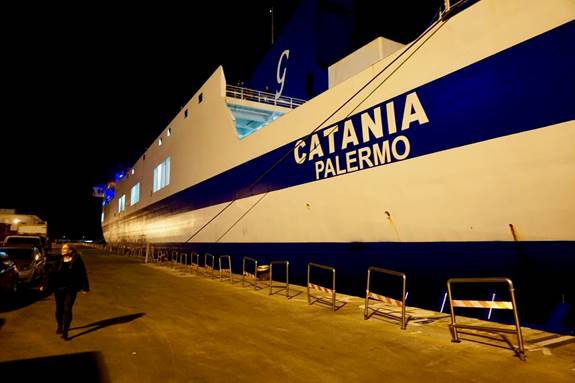 <![endif]>
<![if !vml]>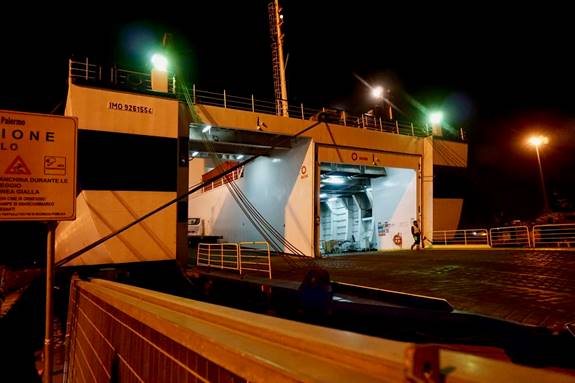 <![endif]>
Those without cabins sleep wherever they can find a space.
<![if !vml]>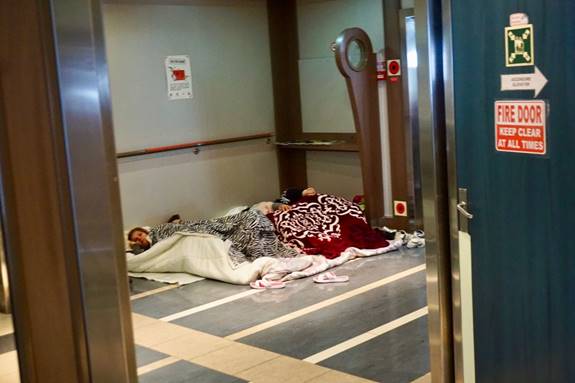 <![endif]>
Many are well prepared for a good night sleep.  I like the blue eye mask.
<![if !vml]>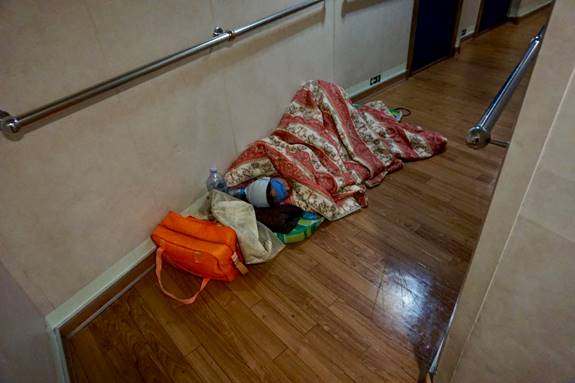 <![endif]>
Our cabin and lights out occurred shortly after I took this photograph.
<![if !vml]>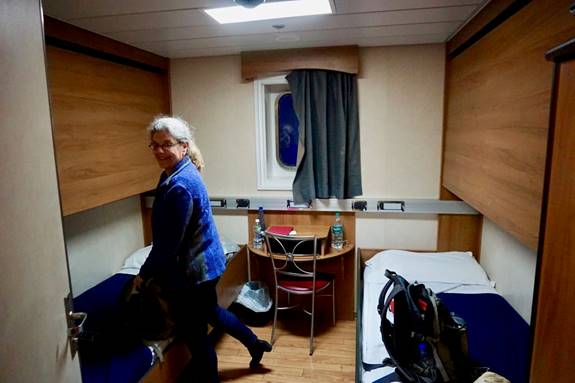 <![endif]>
The PA system woke us up about 5:30 am.  I immediately went up a floor to score a couple of coffees.  Some passengers were up and others knew the PA announcement was a false alert.
<![if !vml]>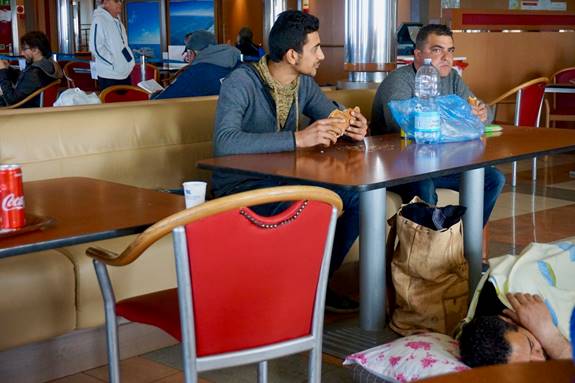 <![endif]>
The couple to the left of the next photograph were French.  Both had taken positions in Tunisia with French companies.  They were traveling with their six-month old baby.  I had walked over to their table to ask them what we should expect upon arrival for passport and customs.  Because they weren't traveling with a car they were unable to provide much assistance but were enjoyable to talk with.
<![if !vml]>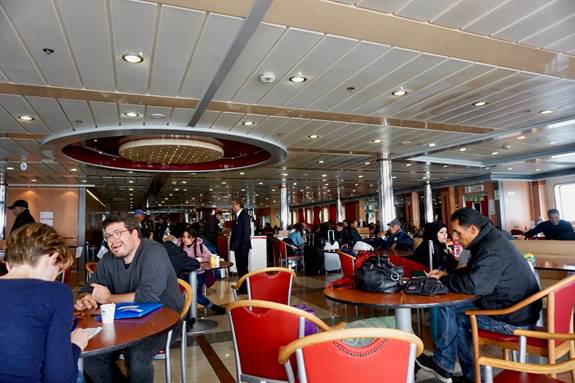 <![endif]>
The above photograph is the dining area.  There is also an electronic casino area and first-class seating area that provides what appears to be comfortable seats for sleeping.
About 7:00 am (remember they got us up at 5:30) they told us to go to our vehicles.  If the vehicle had Tunisia plates it was packed almost to an unsafe condition.  See the car to the left of the photograph and this wasn't close to the worst we saw.
<![if !vml]>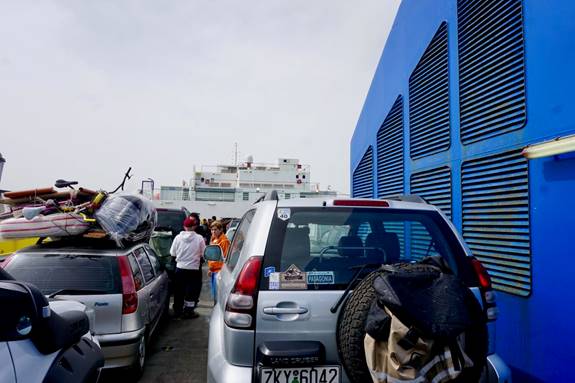 <![endif]>
I spent a good portion of the next two hours as we waited to drive off the ferry talking to the Greek members of a nine-vehicle caravan that was going to spend the next ten days driving across Tunisia.  The owner of this Toyota Hylux pickup truck was willing to trade me straight across for our 4Runner.  They can't buy the 4Runner and we can't buy the Hylux.  If we could buy a Hylux in the U.S. I think this is what we would be driving around the world.  Our 4Runner is to the left of the Hylux.
<![if !vml]>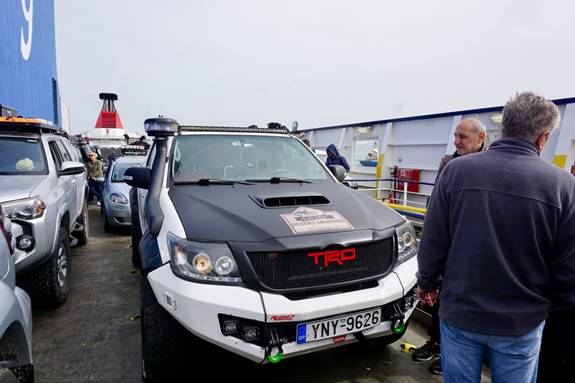 <![endif]>
I did find it interesting that eight of nine Greek vehicles were Toyotas.  The ninth was a Mitsubishi and had already broken down on the drive from Greece to Sicily.
<![if !vml]>
<![endif]>
I drove a Jeep from Texas to the end of the road in Panama in 2016.  I think the Jeep is a great 4-wheel drive vehicle.  However, I now drive a Toyota and I need to get me this decal.  I know, my maturity level isn't as high as those reading this blog post.
<![if !vml]>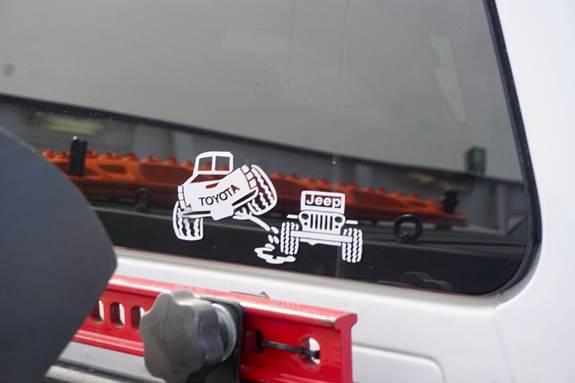 <![endif]>
We eventually got off the ferry.  It took us about 30 minutes to get through passport control.  Next up was customs.  This process took about 15 minutes and two small payoffs totaling about ten Euros.  I could have said no to the bribes but I didn't want to spend the next hour or two or more as they pulled everything out of the 4Runner to search for non-existent contraband.
After clearing customs we exited into a parking lot – without a pre-approved phone service and therefore no Google maps or any Tunisian money. And we have been driving the world for almost the last two years and backpacked for five months in South America, driven to Panama, etc. – old age makes you forget the basics!
<![if !supportLineBreakNewLine]>
<![endif]>
Found a cab driver who knew no English, made a deal using mostly hand signals and had copied down our hotel into my book that I could then show him and followed him to our hotel. But before we took off for the hotel Nancy and I watched our taxi driver almost get into a fistfight with another taxi driver.  I think the second driver had been waiting longer than our driver and therefore thought we should be his client not the driver I had found. 
After a couple of minutes of screaming our driver pulled out and I was right behind him.  He drove like a bat out of hell but kept his emergency blinkers on so I never lost him. Heck, when we were about 2/3rds of the way to the hotel and had to stop for some traffic he rolled down his window and gave me the thumbs up sign.
About 30 minutes later we are parked, I have paid the taxi driver, and we are checking into the Tunisia Palace hotel.  We have arrived.