ConnectionInfo.phpselectStockphoto1.php


audio control:
**Sat-05/04/19--all day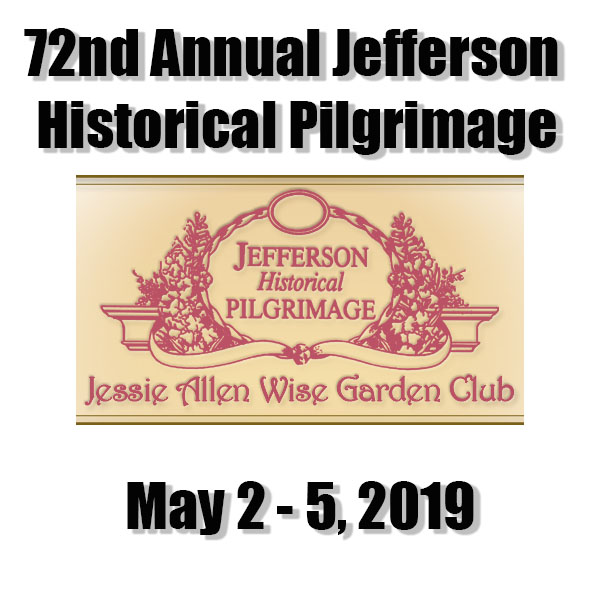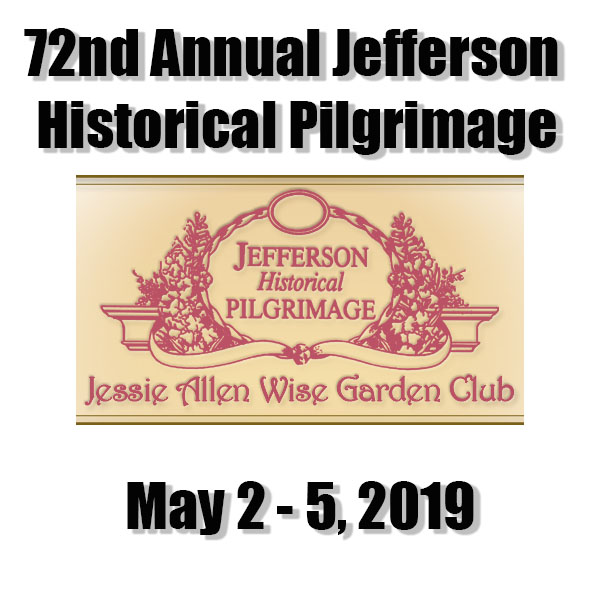 72nd Annual Jefferson Historical
72nd Annual Jefferson Historical Pilgrimage - May 2 to 5
Date: 05/04/19 Time: all day
Place: Downtown
POC: telephone: 903-452-3836
email: jeffersonpilgrimage@gmail.com
Description:
Let the good times roll.
click here to see more info
May 2, 2019 through May 5, 2019

The Jessie Allen Wise Garden Club presents the 72nd Annual Jefferson Pilgrimage. Celebrate the beauty of spring and take a trip back to the 1860s as Jeffersonís annual Pilgrimage starts with the infamous Diamond Bessie Murder Trial. Donít miss the Historic Home and Garden Tours Friday, May 3 and Saturday, May 4, and additional Pilgrimage activities including the Pilgrimage Parade and town skirmish! Enjoy the salad buffet luncheon at the Excelsior House Hotel, and tour Jay Gouldís private rail car, the Atalanta.

New for this year, enjoy hearing our traveling medicine man, Dr. Doc Plumbob. In front of the Jay Gould Car following the town skirmish and again at 2:00. No admission charged.